Discover the Treasures of Anatolian Kilims and Other Tribal Rugs
By Stacie Leone
You can't take home the beautiful tiles of the Blue Mosque; the dazzling frescoes of the Hagia Sophia are not for sale, neither are the opulent treasures of Topkapi Palace. But you can bring home with you a special and truly unique Turkish memento to treasure for a lifetime: a hand woven kilim rug.
What is a kilim rug?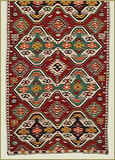 The word Kilim (kill-im), is of Turkish origin and denotes a pile-less textile produced using a flat-weaving technique. What distinguishes kilims from "oriental" or "Persian" rugs is that they are tightly woven, flat rugs, while those in the "oriental" rug category are usually pile rugs and carpets, which are produced using a knotting technique. Another distinguishing characteristic of a true kilim rug is that its design is almost always improvised; the weaver has the freedom to develop and apply her own design, color harmony and materials. Oriental rug design, on the other hand, follows fixed, symmetrical patterns, and the weaver has no flexibility to add anything personal to the piece.
Long before kilims became decorative items in modern homes, they were used by tribal communities who created them for practical purposes such as floor coverings, hangings to protect from inclement weather or for storage of grains and other daily essentials. Lightweight and easy to transport, the kilim was an ideal and essential part of the lives of nomadic peoples. But, kilims have also long functioned as much more than practical household items. In fact, each one tells a story, usually through symbolic images which differ from region to region. Kilim weavers, often illiterate in our sense of the word, are wonderfully erudite in the language of kilim rugs. Girls weaving kilim rugs for their dowry chests use this language to express their hopes for children, good fortune or a strong and handsome husband, while a married woman may show her irritation with a prickly mother-in-law or longing for an absent mate. Today's kilims still incorporate many of these old symbols and are hand woven in the traditional styles of ancient nomadic peoples.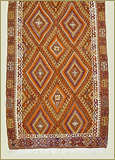 "The lore of kilim motifs, designs, colors and their symbolism is as rich and complex as the combined heritage of cultures that gave them birth," says Mr. Can Gurel, the founder of Kilim.com, an online kilim area rug retail store and information resource based in Istanbul, Turkey. After graduating from Harvard University, Gurel started collecting kilim rugs and has since turned his hobby into a burgeoning venture with repeat customers from all over the world. You can visit Kilim.com to learn about the origins of kilim rugs, the stories behind their intricate motifs and fascinating designs, as well as find practical information such as how to buy a kilim and how to care for it in your home. Another invaluable resource for learning all about kilims is a book called "Kilim: The Complete Guide – History, Pattern, Technique, Identification", by Alistair Hull and Jose Luczyc-Wyhowska, published by Thames & Hudson and available at most major booksellers.
"Some researchers believe that kilim weaving originated in Anatolia. Regardless of its origins, Anatolian kilim rugs are the most varied in their designs, patterns and motifs because there has been so much immigration to the country over the centuries from Central Asia, Caucasus, Iran and the Balkans. So, shopping for a kilim is actually more like a great game of exploration and a perfect way to begin uncovering the rich cultural history of Anatolia and other kilim producing regions," says Gurel.
How to buy a kilim rug
Once you have done a little homework on the subject, experience the magic of the kilim for yourself by browsing the countless retailers in the Grand Bazaar and in the Sultanahmet area of Istanbul. You are likely to find that you learn something new in each store, which is what makes "kilim hunting" so much fun. Try to find stores that specialize in kilim rugs rather than carry them as a small part of their rug collection. Of course, the best way to select a shop is through a referral from someone who has shopped there before and is satisfied with the quality of their kilims and the service they received. Another great way to learn about kilims is to visit the Museum of Turkish and Islamic Arts in Istanbul, which has a wide collection of kilims from different time periods and regions of Anatolia.

What to pay for a kilim rug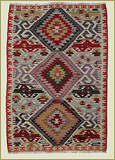 You can expect to pay anywhere from €40-250 per square meter for a new kilim rug. The low end of this spectrum includes kilims with synthetic dyed, coarse wool and weaving, while the high end comprises vegetable dyed kilims made from handspun wools with fine weaving.
High-quality synthetic dyes can look as good as natural dyes when used skillfully, but some prefer the authenticity and the color harmony of natural dyes. Of course, because these types of kilims take much longer to produce, they are more rare and therefore cost from two to four times more than a synthetic dyed kilim not made from handspun wool.
Old kilims are priced according to their condition, rarity, colors, dyes, size and origin, so the price range is very wide. Antique or collector pieces are in a category of their own and can fetch upwards of €50,000 but high-end pieces are usually only sold at auction houses. For those on a budget, there are plenty of "non-rug kilims" and other area rugs and tribal rugs on offer which make beautiful home or fashion accessories, including pillow cases, wall hangings, purses and luggage made from kilim remnants. These range in price from €10 for a small pillow case up to a few hundred euros for a leather trim carry-on suitcase made from pieces of old kilims.
How to bargain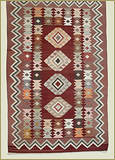 Before setting your heart on the kilim that will grace the walls of your flat back home, be sure to visit several shops. Once you've found a shop you like, don't march in and ask "how much?" Take your time, admire the goods. Pick a few kilims you like and have the dealer put them aside for you as you browse. Know the maximum you are willing to pay, but be sure to keep that figure to yourself. There are plenty of friendly people in the business who are open to bargaining and want to see you return home with something special from Turkey that you will cherish for years to come. Do not worry if you cannot make up your mind when you are in Turkey, because you can always browse kilims in the comfort of your home over the Internet and have it delivered to your door.
Five tips for buying kilims and other tribal rugs:
1- Do your homework: check out www.kilim.com which contains valuable information about the history, origins and designs of new and antique kilim rugs. Or find a good book on the subject.
2- Take your time shopping around
3- Ask plenty of questions
4- Be a firm but friendly bargainer